About 10 minutes after setting off on the coastal path which goes in land a bit I came across a travelling community. They were camped on and around the path. Clothing hung up on the trees and everything you would expect in a community. There were all sorts of vehicles. I was glad I didn't continue the night before and need to set up camp there ☺
The first bit of the coastal path was really narrow and on a platform. When letting people pass me and my big bag I almost fell in the marsh. There just wasn't enough space for some reason 😂
Further along I met a man sitting on a step outside an abandoned house. He was smoking something, I had a really good chat with him, absolute top lad. He even donated 👍
Just after that I came to a crab shop and ice cream van. I treated myself to a 99, it was absolutely delicious 😋. As I was gorging on this amazing ice cream I met a guy eating some fish crab thing. We got talking and I found out he lives in Boston and was a HGV driver. He started following me on Instagram and gave me a shout out. What a legend!
I am meeting so many legendary people on this journey 😀
I then found myself in an absolutely gorgeous pine forest. I was a bit tired and down, but when I got in there with some chill tunes, I had a new lease of life. One of the best parts of  the walk so far. Pine forest floors are so springy!!!!!!!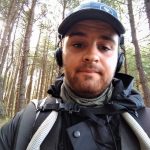 BEAUTIFUL
I then got to Wells next the sea. There were toilets!!!! ❤️ I filled up my water (which was a bit low) I also had a mini wash at the sink as it had been a while 😂
I walked through Wells and bought some peanut butter fudge, the best thing in earth, yum 😋. I talked to an older guy and then made my way out.
After a few more km than I wanted to do I finally found a suitable place to camp.
It was a very productive day ☺