I woke up in an amazing double bed, brilliant night sleep 😴. Bob Cainey had cooked me a mouth watering breakfast of sausage, egg, bacon, beans and tomatoes 😋.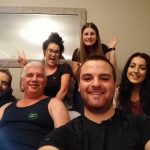 He also made me a pack up and some extra shoulder pads for my backpack. What an absolute legend!!!!
I get picked up by Jasmin and her friend. A quick trip to Tesco and then we're off. I was dropped back in Dersingham.
I met a few people along the path. I then had to leave it to go on some private land to join another path. Thankfully I wasn't asked to leave. I was pretty scared of being turned around with the end in sight. I wasn't ☺
I was then walking in the best path ever!!! A real path!!! Not just grass. I met a surfer couple from down south, they were cool and we walked together for a bit. ☺ I'd covered 10km by 11 o'clock, good going 😁
Had some lunch in the beach and got cracking. Hunstanton was very busy, there were too many people to get through. 🛑
I then met two ladies from Cambridge who were very interested in what I was doing ☺ Then I met a guy collecting seaweed for a part of his tea. We got talking and he donated 👀 what a legend.
After this I met Roy and Sandra my brothers parents in law, I think that's the connection 🤔. Absolutely amazing people. I met them in their motor-home. We chatted and I had a cup of tea and some dinner. It was such a welcome break. It was so nice to catch up and relax. They also topped me up with some water. I needed that water.😀
I then carried on for another hour or so. I covered about 30km. I put up my tent wrong and had to redo it 😂. I slept surrounded by noisy pigs and rabbits.
Great day 👌