I was cooking my dinner on August 18th in my wild camping spot when a child walked past. I'm really hoping that he isn't the farmers son. I said, "alright" and he replied with a nod. I'm like please don't go tell your dad and get me moved on.
A few moments later a man walks past my tent. We get talking and I tell him about what I'm doing and give him a card, that's that.
My phone is dying at this point and is losing charge faster than its charging 😔.
I woke up on August the 19th to a text message on a fully charged phone. It read something like, "I'm the guy from last night, I'm at a campsite down the road, you want a Cuppa?" I respond saying yes, obviously.
On another note: I picked a terrible place to pitch my tent, there were diverts and I woke up with the roll mat on top of me.
Anyway back to the chain of events: I walked a few miles down the road to their campsite and met the amazing Futter family. They filled up my water, gave me a Cuppa, made me a bacon and egg sandwich 😋 and I got to use the loo. Absolutely amazing. Walking without my bag to the loo was interesting, my feet were moving so fast I almost fell over 😂
Across the rest of the day I met lots of people who were interested in what I was doing ☺. I met an older lady, a couple who had released a music album and two grandparents out with their grand-kids. In the midst of this I got a hot chocolate and a meal deal from a Spar shop.
After lunch I met a vet who was on a walk with her dog. We got talking and ended up walking together chatting away for an hour or so. She then pointed me in the right direction as we parted ways. Meanwhile the weather was in and out of rain ☔. I'm so glad I've got a full set of waterproofs.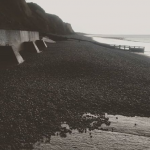 THEN THE SHINGLES HAPPENED. This part was pretty tragic. The footpath was over a shingle beach for the next few hours, absolute torture, I could feel them on my feet until the next morning. On these travels I met a mother and son duo who were walking on the beach. We ended up spotting some seals 😀
Shortly after the beach I went onto some unstable cliff tops and the torrential rain started. I carried on, it was a pretty flat area and I was the tallest thing around. There were many thunder claps and lightning strikes. 🌩 They went on for a very long time. I lay down on the floor trying not to be a target. But the lightning was striking the sea and the land. I was stuffed. After waiting on the floor for it to pass I decided to chance it and walked quickly and hunched over until I got onto the beach which seemed safer. I was absolutely 😰.
The Neale family took pity on me and picked me up from Sherringham. It was horrible weather if you hadn't caught that bit. We had a sausage casserole and I had an amazing shower. We talked for a while and then it was off to bed 🛏.