I woke up full of energy and ready for the day 😀 It was cereal and toast for breakfast, very nice. The Neales sorted my washing, made me a pack up, made me breaky, sorted my wounds and dropped me back in Sherringham.
I set of from sherringham and walked up there tallest hill, it had a trig point on it and was part of the path. The weather was lovely ☀.
As I made my walk to Croma, an older couple were walking in front of me. The sun caught the man's eye and his leg got caught on the bench. He gashed his eye and botha knee's, it was horrible, nothing my small first aid kit could handle. He definitely needed to go to minor injuries. When this happened his wife didn't notice and was walking off. I called after her, helped him up and game some tissues to try and stop the bleeding. There were pools of blood on the floor 😔
Shortly after this I met up with Phil, Jed and Noah Morton. It was great to see some familiar faces. The Mortons are great!!! They joined me for a bit of the walk and then we went for some food and drink. I got a hot chocolate and cheese & Ham toastie. They were so tasty and they paid 😁. Thank you for that. Then they walked me to my next walking companion.
We met Steve on the Cromer Pier. Steve is a veteran and now works as an engineer, he loves walking and all things outdoors and active. I met him while walking along the Wash. We walked together all day.
At one point we took a break and I sat on an ants nest. I could see a few on my arm and I was like " Steve, have I got anything on my back". He was like " wooah, yeah you've got ants all over you, hundreds!!". I managed to get them all off and we were sorted.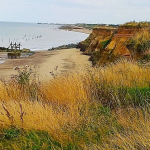 We walked along some dodgy cliffs with cracks in the floor. We saw lots of coastal defence work going on. There were piles and piles of sand and piping being moved around. In the midst of this we met two other walkers who were walking the entire Norfolk coastal path in 4 days 🤭. They gave us some tips for the remainder of our day. There was a diversion for the coastal path which they gave us a map for to help us on our way, such nice people 😀
I was then picked up by the lovely Horton's in Happisburgh, a place being washed away by the sea. They were amazing, lovely food and company 😀