I woke up at 7.30 after having passed out the night before. I forgot to say goodnight, I went upstairs and passed out from exhaustion 😓.
The Horton's gave me a great breakfast… cheerios, shredded wheat and toast. They washed my clothes and gave me a pack up.
Ian dropped me back in Happisburgh where I met up with Steve again. He had to get back home, so we said our farewells and I set off on my walk.
I came across a young runner, who I said good morning to. She stopped and was like, "what are you doing?" I told her what I was doing and why, and gave her a card. She ended up putting something up on Instagram about what I was doing.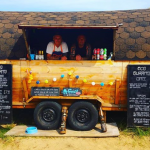 As I was walking I kept seeing these signs for a place called Eco Burrito 🌯. I saw some flags for the place, and was hungry so I went to go check it out. It was an amazing set up, there was music, a circus tent and a cool shack, it was amazing! After telling them what I was doing they gave me a free Burrito and cup of tea. What legends!!!!!
I continued over more sand dunes and came a cross the largest camp site ever. The people there called it a hippy encampment. Met loads of amazing people there. They were really interested in what I was doing. I was given a multi-coloured crayon, two ciders, a charge of my phone, some donations and great conversation.
I met a few more walkers including two guys in camo, then sat next to sand dunes. In the distance I saw two lads chasing an inflatable rubber dingy down the beach for ages. They finally caught up with it after it went into the sea.
I made my way to a campsite in California at the end of the day because was no where to wild camp, they let me stay for free. There  I met a guy called Paul who gave me some extra pegs and we had a pint at the pub together. He was a top guy, he has been a HGV driver for over 30 years.
Great day!!!!!!