As we drove to Mablethorpe Radio Derby gave me a shout out on their news bulletin… I even got to say few words!
Day 1 of my long walk has been a long day, longer than I expected! I stopped at 7.30 after starting out from Mablethorpe at 10.30. I walked just over 27km, that's around 17 miles.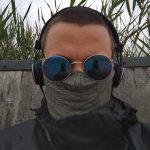 It was very windy, there was sand going in my face ,and intermittent rain… and all that stuff. I got wet, dried out, got wet again… joy!
So glad to finally get started. My feet hurt, I've got some chafing, my shoulders are hurting.
Thank you for all your support, I really appreciated  seeing all your messages.  I kept looking at my phone every now and then, you're comments kept me going and spurred me on, thank you for all your encouragement.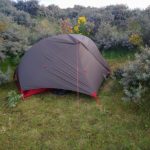 Thank you to all the people who've donated and sponsored me. I do really appreciate it. And for offering me a warm bed at some point.  I'm looking forward to nice warm meals, that'll be amazing.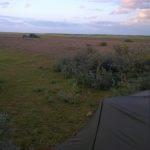 I've pitched my tent and I'm bedding down for the night. Set my alarm for 7am to make sure I'm up in time for my live interview on Radio Derby at 7.40. They changed the time. So make a note of that if you want to hear me.
Please keep sharing and keep those encouraging words coming, they make a big difference.